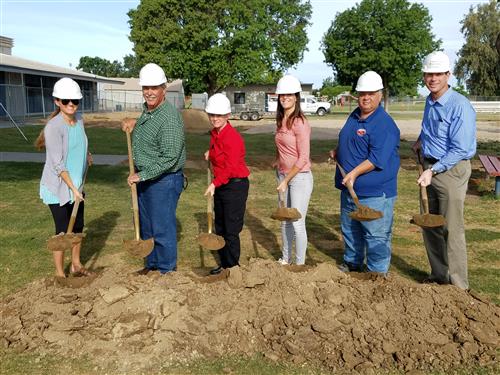 The Pioneer Board of Trustees held a ground breaking ceremony on June 8, 2017. Pictured from left to right: Board Members: Denise Peters, Jack Soares, Jennifer Kuehn, Sarah Headrick, Phil Perkins, Superintendent Paul van Loon.
Pioneer Elementary School Construction Project
The Pioneer Union Elementary Pioneer School District began construction on a classroom building that will house eight classrooms at the Pioneer Elementary School located on 14th Avenue.
The project is funded from the Measure Y approved by the voters of the district in November, 2016. The project's goal is to replace aging portable classrooms with permanent classrooms conducive to 21st century learning. Currently, nearly seventy percent of the students at Pioneer Elementary are taught in portable classrooms that are aging, ranging from thirty to thirty-five years old. Portable classrooms are intended to be temporary and generally must be replaced or upgraded over a period of time.
The construction of this building marks the first phase of a multi-year project. The timing of the next phase will depend on the release of State matching funds from Proposition 51. These funds may not be available for several years due to a backlog for state funding.